Heb jij het laatste Samsung Galaxy S7 Edge al gezien? Het is een mooi toestel. Maar iPhone gebruikers gaan niet zo snel overstappen op de nieuwe Samsung Galaxy S7 Edge. Die wachten liever op de nieuwe iPhone 7.
Ook wij wachten op de nieuwe iPhone 7. Hoe zal de iPhone 7 eruitzien? Zelfde design als de iPhone 6 of dit keer meer richting Samsung Galaxy S7 Edge? Wij vroegen ons af hoe een iPhone 7 eruit zal zien als ze hetzelfde scherm gebruiken als die van Samsung Galaxy S7 Edge, daarom hebben wij onze designer gevraagd om alvast een leuk iPhone 7 concept te maken.
En dit is het resultaat. Zou jij de wave versie van de iPhone 7 kopen? Of heb je toch liever het normale versie? Welke versie je ook heb, u kunt altijd bij ons langs voor een professionele iPhone 7 reparatie.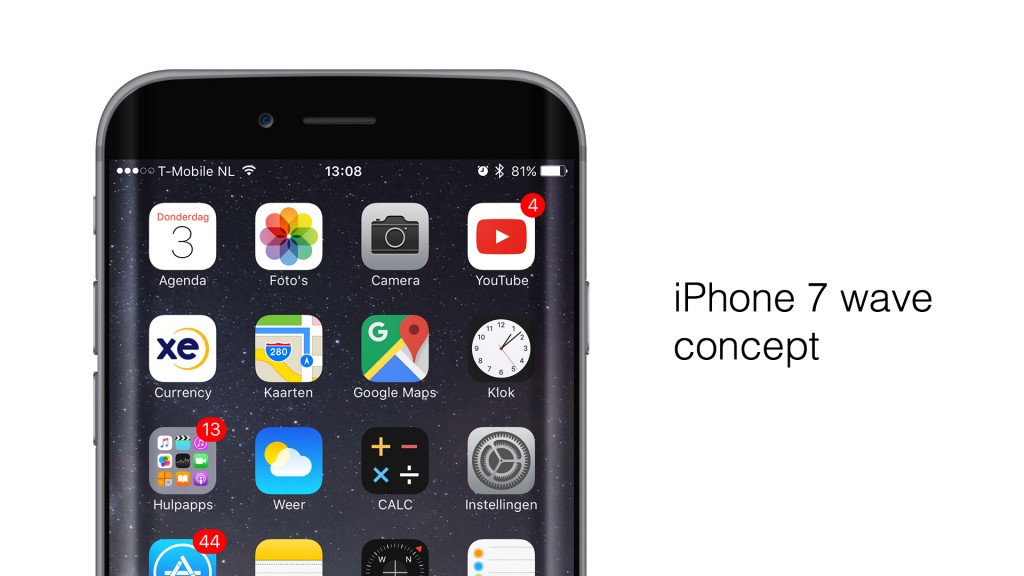 Homescreen met gebogen scherm randen, dit ziet er wel goed uit op de iOS. Of vind je dat niet?
Laat het weten in de reacties.
Edge to Edge Amoled Display, waar zwart echt zwart is.
Snellere Touch-id sensor die bij een aanraking al je iPhone 7 unlocked.
En zo ziet hij er uit. Klik op het foto voor ware grootte.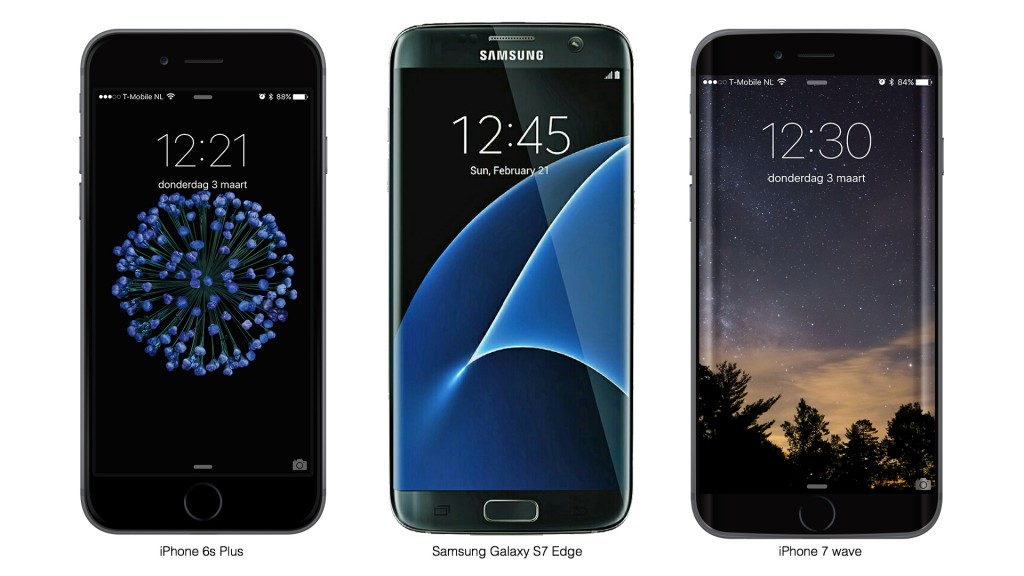 Welke features wil jij zien op de iPhone 7?
Wacht jij ook op de nieuwe iPhone 7? Welke features wil jij?
Wij willen in ieder geval het volgende:
16 mp 3d camera
4k display
4gb ram
waterproof
bluetooth earphone
draadloos opladen
stereo speaker
vanaf 32 GB
Heb jij meer features in je gedachten? Schrijf deze op in een reactie!